< 1
-min. read
Introducing "Tune In", a new series of monthly playlists that will fuse Eastern musical traditions old and new, harmonising urban innovation with faraway spirituality.
This week, we're opening your ears to our new sound. A new dawn is rising, bringing with it Further East – an inbound travel movement that's blazing an unstoppable trail across Asia. Go where the Eastern wind takes you and immerse yourself in our world that rejoices in Asia's euphoric past and present. 
Ready to take the journey? Join the Further East movement.
---
---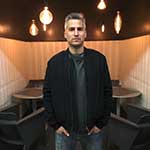 JARED DIETCH
Music Producer Jared Dietch started his career as a music curator for hospitality with over 20 years' international DJing experience already under his belt. Now the programmer and curator of music for hotels like Thompson, Andaz and W, Jared's company Music Matters is helping brands develop their identity by bringing background music into the foreground.
---